Creating and managing your own business can be difficult: finding, refining and nurturing the idea, putting all your passion into it to ensure the viability of the business in a fast-paced and ever-changing world is by no means an easy task.
So how important is the role of the entrepreneur's personality in expressing all that passion to ensure the success of the business?
On the occasion of World Women Entrepreneurs Day, we caught up with Lucia Arribas, founder and CEO of Prompteur Solutions, to explore this question and find out if the values of the entrepreneur can define the business itself.
A UNIQUE JOURNEY
So Lucia, can you tell us a bit about when your entrepreneurial journey first began and what, for you, is the underlying credo of what Solutions Prompteur means today?
Lucia : Solutions Prompteur was born first and foremost quite naturally as it happens, a character trait that has been with me since my childhood: that of entrepreneurship… At first, my projects as a young entrepreneur consisted of getting things together to organize meetings for children's sports events by promoting them, and therefore helping to find funding to make sure the events get off the ground and take place.
Then, as I grew older and became a woman, my desire to continue to be an entrepreneur also grew. I knew right away that I had to develop this desire and dedicate myself 100% to it.
I then found my way in the very specific field of teleprompting and I liked it, and you will quickly understand why!
Thanks to my appreciated and reputed know-how, Solutions Prompteur has become a company that works to enhance the value of this profession, that works every day to accompany extraordinary clients (as are the users of a teleprompter), but also to inscribe a new vision of the business idea that brings benefits to all parties: customers, partners, suppliers, employees, without forgetting our families too.
It's a way of doing business based on trust, respect and well-being, both personal and collective, because the two seem inseparable to me. Our personal balance influences our professional activity, in the same way that our professional balance influences our personal life.
–     Confidence in the future, and confidence that when we give our best and total involvement, when we are in a position to enhance the capacity to really listen to one another, when we are ready to leave our comfort zone, when we pay special attention to every detail, whatever it is, what we do can only succeed! And this is the reason for the success of Solutions Prompteur, which has seen a growth of more than 150% in its last financial year, and this despite the pandemic that hit the world.
My conception of a company is that the "profit" is not an objective, but rather a result, a natural and logical consequence which testifies to a good management of the company, that is to say, of the good control of an ecosystem which takes into account various aspects, be they spiritual, material, financial, and of course, human.
My vision of a company is that the human being is always at the heart of the activity.
Lucia :  Yes, today, on the occasion of Women Entrepreneurs Day, I wanted to share with you some awesome anecdotes that testify to this wonderful experience that I have lived (and that I continue to live!), through these 15 years at the head of Solutions Prompteur.
Accompagner Mr Charles Aznavour pour un concert au Kremlin, sous le bureau de Mr Poutine, ou à la place de la République à Erevan dans son Armenie natale…
Participating in the Cop 21 with a team of 11 teleprompter operators to assure a 24/7 prompter service… I was in the center of a conference room surrounded by 150 heads of state, including Angela Merkel, François Hollande, Barack Obama, an unforgettable experience to have all these leaders together at arm's reach.
Participating in the victory of the city of Paris for the organization of the 2024 Olympic Games in Lima (Peru), in the company of the French Olympic delegation, was a particularly moving moment.
Or the incredible experience of 2 months spent in Seville at the end of 2011, with 2 live events per day for the worldwide launch of 4 electric car models by Renault.
A RISK-FREE WORLD
You give the impression of going out of this world with such remarkable examples, human examples such as being able to follow Charles Aznavour around the world and practically "rub shoulders" with heads of state! But I imagine that to get to where your company is today, everything was not easy, right?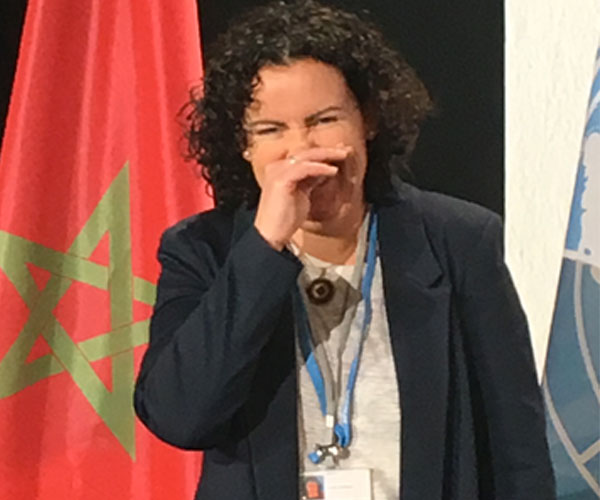 Lucia: These are beautiful memories, of course, which can testify to a trajectory and a quality of work that makes me very proud… but of course all this was not without difficulties.
Because entrepreneurship also means "taking risks"… no one knows what tomorrow will bring, but as an entrepreneur, more than once I had to make important decisions, without being sure of the result, which could have led the company to its end, or on the contrary to its development.
The first "lockdown" related to the pandemic, was a crucial step to overcome … of uncertainty in the face of this unprecedented situation, where the entrepreneurial spirit won over doubts and fears … Without this entrepreneurial spirit, without the strength of character to manage the uncertainties in the face of risk and without the intuition that accompanies me daily, Solutions Prompteur could not have survived.
AND AS FOR FEMALE ENTREPRENEURSHIP?
And finally, Lucia, do you think that the entrepreneurial spirit to meet all these challenges is somewhat different when it comes to running a company as a woman?
Lucia:
It is thanks to this entrepreneurial spirit, a spirit that cannot be learned at school but is lived and felt inside, that I continue to take up all the challenges that come our way and that may come our way, with the unshakeable conviction that all the ingredients are there to continue to go forward in the right direction.
Whether you are a man or a woman, I am sure that the entrepreneurial spirit remains the same, it is a common point that goes beyond gender.
And it is thanks to the strength of the team spirit that is at the heart of this company, that this entrepreneurial nature can continue its path, for the benefit of the collective (and not the individual) above all.